Version 1.1 Released
New features available in Prime Draft
22nd December, 2020
The team at Blue Ink Software is excited to announce that an update has just been released for Prime Draft on Windows 10. Prime Draft now allows users to pursue new kinds of writing targets and receive in-depth feedback on their writing habits.
To celebrate the release, we are offering Prime Draft at almost a 20% discount for a limited time.
Below is a breakdown of the new features.
Calendar
Prime Draft now contains an in-built calendar to show you how much writing you have completed on each day. The daily information includes your written word count, and unlike many other word processors, it also shows you the amount of time you spent writing.
You can view the calendar in two ways. You can use the main calendar screen - accessed via the navigation menu – to see a breakdown of all the writing you have done in Prime Draft. Alternatively, after opening a file, you can use the calendar button to see a breakdown of the writing done for that specific file.
We hope the calendar can give you new insights into your writing routine, and provide extra motivation to reach a consistent level of writing output. Just remember, even after deleting a file, the main calendar will remember the writing you did on each day, so you'll never lose track of your progress.
Daily Writing Targets
Prime Draft is designed to help writers get their first draft done, no matter the scope of the writing project. We have now added two new writing modes to help you pursue your writing objectives in new ways.
You can now target a specific amount of writing per day. This could be a daily word count or a daily writing time. Whatever daily target you decide to pursue, you can set of goal of achieving it for up to 30 days.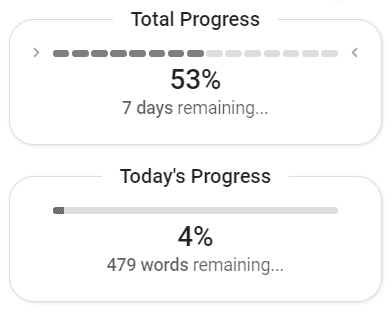 When opening a file with a daily target, the calendar and menu will show you exactly how many days of your target you've completed, how many days you have remaining, and how much writing you have left to do today.
A daily target can be created in two different modes. In the default mode, any day where you complete your daily target will count towards your completed day total. This mode is best for people that don't intend to write every day. You can complete a day whenever it fits your schedule.
The alternative mode is the consecutive mode, which means that you have to achieve your daily target every successive day until your reach your intended day count. If you miss a day or fail to reach your daily target, the completed day count will reset to zero. This mode is for the daily writers out there - especially the aspiring ones!
Enforced and Non-Enforced Targets
In the first release of Prime Draft, all writing targets were enforced. This meant that you had to fully achieve your target before you could export your writing outside of the app. After feedback from users, we have added more options.
By default all writing targets are now created in a non-enforced mode. This means that you still get all the feedback of your progress against your target, but you can export your writing at any point, even before reaching your final goal.
For writers who want that extra motivation to stick to their writing goals, you can still set any target to be enforced at file creation. Like the first release, enforced targets mean you must complete your target before you can export your writing out of Prime Draft. Files with enforced targets are displayed with a lock icon on the file browser.
Bu that's not all. Now when pursuing an enforced target, you can also make back-ups of your writing. Doing a daily back up of writing is something a lot of writers do to protect them from hardware failure or unforeseen events, and it is something we recommend doing at Blue Ink Software.
If you are writing in enforced mode and have not yet achieved your target, Prime Draft will allow you to export your writing in a special encrypted file format. While this still means you cannot access your writing until achieving your target, it does mean that you can make a safe back-up of your writing. These files can be opened by Prime Draft to restore your writing if you lose the original version of the file.
And More...
And that's all not all. A number of features have been added to make Prime Draft look better than ever, including an updated file browser that now shows more information about the status of each file.
We hope these new features give you more freedom to pursue your writing goals. Whether it's distraction free writing, getting into the daily writing habit, or pursuing special writing events such as NaNoWriMo.
If you have Prime Draft installed and can't see the update, please go into Microsoft Windows Store app and click "Get Updates" to download the new version.
---